Harry Coover - Inventor of Super Glue
Harry Coover Jr (1917 – 2011) is today remembered as creator of one of the most popular family of adhesives called cyanoacrylates – widely known today all around the world as super glues. Even though his original claim to the discovery was rejected in patent office, he managed to bring his invention to the market almost two decades later.
He was born on March 6, 1917 in Newark, Delaware, and after finishing Hobart College and getting Master of Science and Ph. D. from Cornell University in New York he found employment in American technology company Eastman Kodak, most commonly known today just as Kodak. There he worked on various compounds and inventions (ranking up to 460 patents that he was granted by United States Patent and Trademark Office).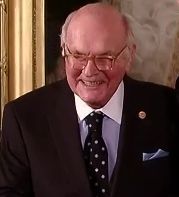 Coover's discovery of super glue happened by accident in Kodak's laboratories. In 1942 he worked on government contract of discovering plastic compounds that could be used as a clear plastic gun sights for American WW2 soldiers. This gave him an opportunity to work with polymers and test various techniques that can change them or break their structure down. During one of these experiments he and his team managed to create basic formula of super glue. He immediately noted great properties of this cyanoacrylate structure, but when applied for patent he was rejected. 9 years later he rediscovered this formula together with researcher Fred Joyne, who recognized the commercial potential of this substance. After years of work, super glue was released to the public in 1958 under the name "Eastmen 910".
For his years in service of discovering highly useful products and procedures, Harry Coover Jr was awarded with numerous accolades, recognitions and awards, including Southern Chemist Man of the Year Award, Award for Leadership in Chemical Research Management, IRI Achievement Award, Maurice Holland Award, he was inducted into the National Inventor's Hall of Fame and was awarded with National Medal of Technology in 2010, just one year before his death.
Harry Coover Jr died in his home in home in Kingsport, Tennessee on March 26, 2011.